Last week I published an Interview I did with Matt Siniscalchi, which got some great feedback.  This week, I am bringing another heavy hitter, Chris Flo! Enjoy!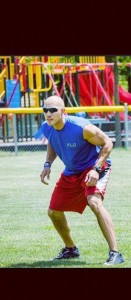 ---
Chris, Welcome to LaVack Fitness! Please tell everyone a little about yourself. How did you get started in the industry?
My father and grandfather always spoke about the importance of fitness. So I use to always do pull ups and push ups as a kid. Once I got to high school I noticed the respect that the bigger kids would get, and I wanted to get the same kind of respect. I started taking lifting seriously and was naturally good at working out. I saw results right away. As a bonus I noticed that girls liked it too, haha. So needless to say I was hooked at the age of 15. After that I started training my friends in my parents basement. I can go on forever with how I grew from there but to make a long story short I have continued to learn and grow ever since.
---
When did you open Flo Fitness and how did that whole process go? Any specialization at Flo?
I opened FLO in 2009 with a Cash advance on a credit card (big mistake, I still haven't paid it off). It cost $10,000 to get the place up and running. I have been losing money and learning how to run a business ever since. I believe we Fail Forward, and I fail every day. The process is a continuous process. There will never be an end. So FLO just continues to grow and change.
Our main specialization at FLO is training High School athletes. Our goal is to make them have fun and stay injury free while progressively increasing their abilities. We also pride ourselves at FLO with our Leadership Development. We give our kids assignments that help build leadership skills that they will use later on in life.
---
You are a co-founder of Next Generation, tell me a little about the purpose of Next Generation. I know you guys left the States for a seminar, any big plans this year?
At Next Generation we believe that if you want to go fast go alone; if you want to go far go together. Our goal is to unite the fitness industry. It has been so product driven in the last couple of years and we believe the power is in the education. So we educate trainers how to use all the products they have to produce great programming. We also want to help the Next Generation of trainers have a voice in the fitness industry. We provide a platform for trainers to present on. NO offense to the "Guru's" but its time for some new ideas and new presenters. This year we have a ton of plans. I will keep you suspense. Just be sure to follow us and you will see it all unfold.
---
So in 2012 you became a TV star with your appearance as an awesome coach for a girl wanting to do the Tough Mudder on MTV's "Made". Tell me a little about that experience!
Haha, I am far from a TV star but it was a fun experience. It is funny how they try to make you push someone to their limits. The most fun to me was just being on camera and seeing how they TRY to make you be someone you're not. I made sure all the training was done MY way and I stayed true to my morals and values as a trainer. TV will try and mold you to be the "Biggest Loser" style trainer. But I do not yell or scream at my clients. I get results by using my own techniques. Empower the client and provide them with the proper tools so that they can operate without you around.
---
I know you are all across the board with different aspects of the fitness and health field, where would you classify yourself?
I would not classify myself. I believe when you label yourself , you limit yourself. I like to do a little bit of everything. I don't think there is one approach to all problems. I keep an open mind and enjoy learning new things.
---
What do you find to be the most enjoyable aspect of this career path you have chosen?
I enjoy educating other trainers and kids. It is fun when a trainer has an "Ah ha" moment when they see you present. I also love getting emails from trainers who have used what I taught them and helped their clients.  With my college students I love working on personal development. Every class I teach I begin with a 5to 10 minute speech on personal development. It's amazing how well they respond to it.
---
What would be some words of advice for up-and-coming trainers?
Fall in love with the PROCESS! Success does not happen overnight. You must be consistent and persistent. Also, you must find a few good mentors. Too often young trainers think they know everything, there is too much ego. You need to find a group of people to network with and bounce ideas off of.
---
Three things that you wish would change in the fitness industry?
I wish there was more HONESTY and INEGRITY. There is a ton of fluff and all these marketing techniques. 6 pack in 6 weeks, Get a JLo butt with this workout, Lose fat without exercise, Take this pill. I hate it.  We need to change the attitude towards exercise in our youth. It must be looked at as a positive thing. Coaches always tend to use more exercise as punishment. So our view of it is negative.  People need to begin to view fitness as part of the WHOLE cycle of self. Exercise effects you mood and brain function. We are not people made up of parts that act independently. We are spirits made up of parts that act as a whole system. The mind, body and soul must all be balanced for us to be happy beings.
Also, looking good and having a nice body is a by-product of training. Other than bodybuilders and figure people, the rest of the population should be worried about being healthy not 6 pack abs. If you train right and live a healthy lifestyle the 6 pack and other physical stuff will come.
---
Where do you see yourself in 5 years? Any certain route you want to see yourself go?
I will still be doing what I am doing now, just hopefully on a larger scale. My two next big goals are to get my Masters in Sports Psychology and write a book. I want to do Sports Psychology because I feel it is a field that needs to be further explored.
---
Drop 3 knowledge bombs on fitness/life/health.
I wish I had 3 specific things but I don't. I will just tell you what I tell my students.
The SAID principle always holds true. Your body will adapt to ANY imposed demand. Even if the demand is wrong. So if you clients is lifting a weight it cant handle, the body will find a way to get it done.
Teach MOVEMENT and not exercises. If a person can learn to move properly it will transfer to everything that they do in life and sports. If they just learn to bench press, it will have very little carry over.
Pain is a signal not a sign. What I mean is, pain is signal of dysfunction somewhere in the body, it is not a sign of weakness in your client. I hate when coaches yell at kids to push thru pain. There is a time and place for that kind of motivation. However if you can find the dysfunction, you can cure the cause of pain and keep the client/athlete happy and on the field. Train smarter.
---
What certifications or seminars are you looking forward to this year? What certifications or seminars should trainers go to if they haven't already?
I am not looking forward to anyone in particular. I think we are flooded with certs. What I am looking forward to is meeting new fitness pros and hearing their philosophies on training. I always learn more talking to instructors about their beliefs rather than taking a course.
3 courses that recommend are DVRT Level 1 Ultimate Sandbag, TRX Rip Trainer Course and Animal Flow. These are really just my three favorite, ha
---
Anything on your desk right now that is being read? If so, what? What are some good options for books for a young trainer to look into reading?
If you follow me on facebook I have a photo album called Suggested Readings. You can find a ton of good books there.
I am currently reading Mastery by Robert Greene. It is great so far and talks about the process to reaching mastery in any field. I am only on chapter 2 now but I highly recommend it already.
---
Chris, thanks a ton for doing the interview. How can my audience reach out or keep in contact with you?
Follow me on twitter, facebook or istagram @FLO_Fitness. Email me at flofitness@gmail.com.
---
Once again, thank you a ton for doing the interview! Greatly appreciated!